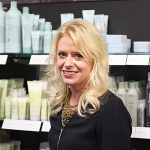 Kari is the proud winner for "Best Stylist" of the 2018 Maple Grove-Osseo Press Readers' Choice Award!
Kari graduated from Horst Institute in 1993. She receives additional annual training and is certified in Brazilian Blowout and Cinderella Extensions.
Kari began her career as a stylist in a salon as an employee and then became an independent stylist within a few years. Kari joined the team at Talisman Hair Studio team in 2005. Kari made her dream a reality and become a salon owner. In February of 2014, Kari acquired Talisman Hair Studio.
Give all of her clients a "wow" experience is what Kari strives for. She enjoys the dramatic change that services such as foiling, Brazilian Blowouts and Cinderella Extensions provides her clients. Kari believes "Rock Star" communication is key to a successful relationship with her clients.
Kari is inspired by color, cuts and emotional strength in people. Kari is inspired every time she sees a client with a style or color that makes he or she feels confident, and they leave with a smile. As the owner of Talisman, she loves seeing the other stylists clients leave with shiny, healthy hair, ready to take on the world.
Kari has an amazing enthusiasm and passion for life and especially in her career. She and the team at Talisman Hair Studio keep the atmosphere fun and full of positive energy. Education is a top priority for Kari; she takes consistently takes classes to improve her techniques. Kari enjoys showing her clients how to achieve the same results at home. She believes it important to share knowledge and tips so her clients can have amazing hair every day.
Check out her work below!
Get to know Kari!
Kari's favorite quote is "dude", which you'll soon realize after meeting her 🙂
Kari really enjoys cooking in her free time. Her dream vacation is a 2 week all-inclusive tropical vacation! When she goes to a coffee shop, Kari's go-to drink is a black iced tea. She's the most proud of having a career she loves!