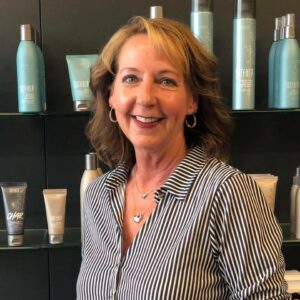 Tammy has been a stylist since the early 1990s. Over the years, Tammy has build a strong following of clients based on her ability to listen and understand her clients wants and needs and then deliver an amazing result.
Tammy believes it is important to build a relationship with her clients. She knows communication is essential to any relationship. Customer satisfaction is of the utmost importance to Tammy. Tammy enjoys making her clients look and feel good about themselves.
Tammy provides the following services: haircuts for men and women, dimensional color, perms and waxing. She strives to understand your hair care needs and deliver a "wow" experience every time. Tammy uses Moroccan Oil and Redken product lines.
Here's a couple of photos of her work!
Get to know Tammy!
Her favorite quotes are "It is what it is" and "You can be pitiful or powerful. You can't be both, so choose!"
Tammy's dream vacation is a trip to Bora Bora, and her go-to drink when she goes to a coffee shop is a vanilla cooler. Her celebrity crush is Bradley Cooper, and she'd want Jennifer Aniston to play her in a movie!
On weekends, Tammy loves to camp, fish, boat, and garden, and in the winter she loves rooting for her favorite sports team - the Vikings, of course