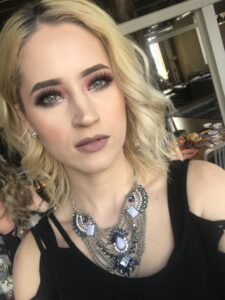 Taya has been in the beauty industry for almost 8 years, and she does it all from trendy colors, to cuts, makeup and updos! She loves and enjoys what she does and most importantly making people feel gorgeous is her priority. Updos are her favorite creative thing to do from it all.
Taya's goal is to be known for her perfection when it comes to anything from colors, to cuts, to styles.
Check out some more of her work on Instagram @HairByTaiyaxo
Get to know Taya!
If Taya had to choose someone to play her in a movie about her life, she'd choose Katie Holmes because she's always been her favorite actress. In her free time, Taya enjoys writing, and she's the most proud of publishing her books and starting her own business! She lives her life to honor the bible verse "Anything you do, do it as for the Lord" - Corinthians 10:31.
On the weekends, Taya loves relaxing on her deck with a cup of coffee with cream. Something that most people don't know about her is that she's from a family of 12 kids!